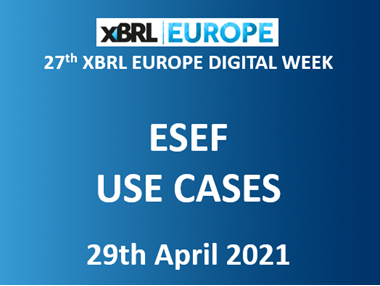 In this digital event, the 29th of April from 13:45 to 17:00 –  XBRL Europe and/or national XBRL jurisdictions members (software companies and service providers) will present ESEF Use Cases based on their feedback/return on experience in preparing ESEF or some specific aspects like the quality of data, etc in ESEF implementation in various countries.
This digital event will be moderated by Elina Koskentalo from XBRL Finland and Thomas Verdin from XBRL UK, both acting as vice-chairs of XBRL Europe.
The presentations will be delivered by the following companies members of XBRL Europe and/or national XBRL jurisdictions :
ABZ Reporting
Alui
Amana
Amelkis
CtrlPrint
Datatracks
firesys GmbH
Invoke
Iris
Parseport
Pomelo
UBPartner
Workiva
The order of presentation will be updated quickly. Stay tuned !