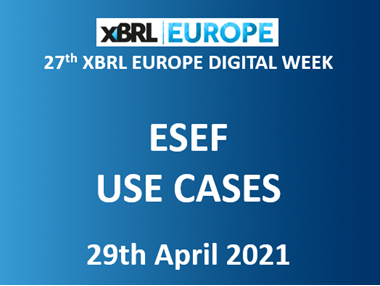 Take a look on the sponsored videos from members.
The first presentation was provided by FIRESYS.
And the second presentation is from AMELKIS about the FNAC DARTY Case.
In this digital event, the 29th of April from 13:45 to 17:15 –  XBRL Europe and/or national XBRL jurisdictions members (software companies and service providers)  present ESEF Use Cases based on their feedback/return on experience in preparing ESEF in various countries.
This digital event is moderated by Elina Koskentalo from XBRL Finland and Thomas Verdin from XBRL UK, both acting as vice-chairs of XBRL Europe.
The really intense program provide a full overview a of first year of ESEF and best practice to prepare the next publication:
13:45 Welcome Words
13:50 XBRL review, Datatracks, Vergil Lamech
14:05 The future of ESEF, a deep dive into the quality of 2020 ESEF Filings in Finland, Iris, Anuradha Rk, Shraddha Bagul
14:20 ESEF data validations, Parseport, Michael Krog
14:35 The gateway to your investors and analysts, Pomelo-Paradigm, Rania Ibnaiche 
14:50 ESEF Reporting: 2020 retrospective from the coalface, UBPartner, Martin Deville
15:05 Between ESEF and analysis – why the investor perspective should always be considered. Tagging and anchoring examples, ABZ Reporting, Till Schneider
15:20 Key ESEF project implementation steps, Alui, Alan Trotman
15:35 Reaching XBRL data quality, AMANA, Pierre Hamon, Janis Steinmann
15:50 Feedback from FNAC DARTY on the realization of their first ESEF reporting, Amelkis, Nawfal Yassir & Fnac Darty, Mr Hassani-Afchar, Group Consolidation Director
16:05 First year of ESEF: Challenge accepted, Bundesanzeiger, Tobias Ramolla
16:20 Last minute change to the Cash Flow Statement, CtrlPrint, Karl Magnus Westerberg
16:35 The ESEF implementation – a review of the German and Austrian markets, firesys GmbH, Janosch Wild
16:50 Lessons learned from the 1st real-life ESEF filing round, Invoke, Antoine Bourdais
17:05 Conclusions and end of the event