Due to the Covid19 crisis, XBRL Europe has decided to transform its 25th XBRL Europe days in Paris 17/18 June event into a 25th XBRL Europe digital week starting on 15 June 2020 to be held through various online meetings, workshops and webinars till the 18th of June.
25th XBRL Europe day Digital Week
Online conference
15-18 June 2020


Registration is open to everyone and mandatory. After registration and for safety reasons, your details will be sent to the organizers of the tracks who will communicate to you the links and credentials to access the Tracks and webinars.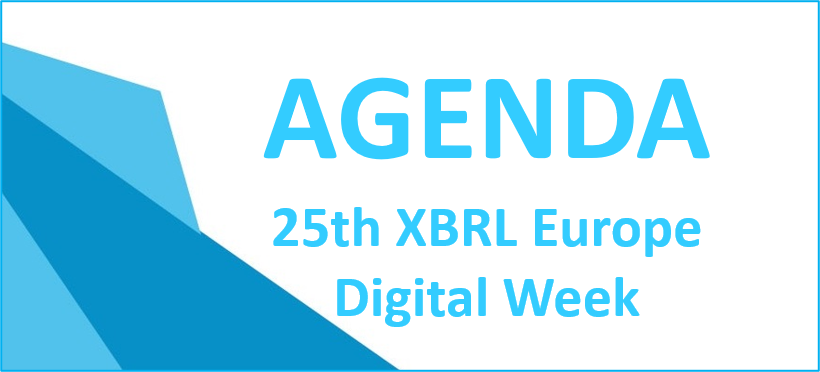 MONDAY 15th June – 14:00 CET
TUESDAY 16th June – 14:00 CET
Bank & Insurance Track
(Chairs Vincent le Moal-Joubel ACPR Banque de France, XBRL France – Thomas Verdin TESH BM&A, XBRL UK XBRL Europe)
TUESDAY 16th June – afternoon
OAM and BR Track (Public session)
(Chair Krzysztof Jesse Bundesanzeiger XBRL Europe)
TUESDAY 16th June – 19:00 CET
XBRL Europe team building Cocktail through Digital tools
with a quizz and a wonderful prize for the winner
WEDNESDAY 17th June – 14:00 CET
Standard Business Reporting (SBR) Track
(Chairs Frans Hietbrink Belastendiesnt, XBRL Netherlands – Elina Koskentalo XBRL Finland)


ESG Track
(Chairs René van der Meij VISMA, XBRL Netherlands – Matthieu Garat, Labrador Company, XBRL France XBRL Europe)

WEDNESDAY 17th June – 17:30 till 19:00 CET
(strickly reserved to the XBRL Europe members)
XBRL Europe General Assembly – Member's meeting, on invitation

THURSDAY 18th June – 14:00 CET
ESEF Use cases (and access to solutions demos)
Conclusions of the 25th XBRL Europe digital Week
More to come ! Stay tuned !
XBRL Europe and its premium members: